Wilcap Co. Engine to Transmission Adapters
Wilcap P.O. Box Box 763 Pismo Beach CA 93448 (805) 481-7639 Fax 343-5000

We offer more than 70 different adapters and we have several hundred different engines and transmissions in our CAD library. If you can't find what your looking for on the pages listed below, call us. Our kits come with all of the fasteners and complete, detailed instructions. We've been doing this for more than 50 years and we stand behind what we sell.
Parts numbers = Engine (392) - Transmission (350) Manual (MT) or Automatic (AT)
BH = Bellhousing
BHA = Bellhousing Adapter (Plate on transmission side of bellhousing)
---
---
Chevrolet V8 Automatic, PG (Alum. Case), TH350, TH400, TH700-r4, 200-4r, 4L60, 4L80 Note 9, 10

Chevrolet Manual Transmission Saginaw, Muncie M Series, BW T5 (GM to 1991 V6/V8) Note 6

Chrysler, Dodge, Plymouth Small Block V8 Automatic A727 Torqueflite Note 6

Ford and Mercury Flathead V8 Manual Transmission

Ford V8 Manual Car/Light Truck Manual Transmission 1964-1978 Note 6

Ford V8 Manual BW T5

Buick "Nailhead" V8 1957-63 364-401ci Note:1

Buick "Nailhead" V8 1964-66 401-425ci Note:1

Cadillac Early OHV V8 1949-1954 331ci Note:2

BH 303-350

303-EFM

Cadillac OHV V8 1955-1964 331-429ci Note:1

CAD-350CHEVYAT, CAD-350BOPAT

CAD-350 MT

CAD-EFM

CAD-302 MT

CAD-302 MT

Chevrolet V8 1955-86 265 thru 454ci Note:1

BH 307-EFM

BHA 350-292
BHA 350-FT5

Ford "Flathead 59A" V8 1932-48 221-239ci

BH 59A-350

or BHA FHFT-350
Ford "Flathead 8BA" V8 1949-54 239-255ci

8BA-350AT

BH 59A-350

or BHA FHFT-350
BHA 292-FT5

Ford "Y Block" 1954-1964 239-312ci

312-350AT

BHA 292-350
BHA 292-FT5

Ford "FE" V8 1958-1977 332-428ci

390-350AT

BHA 390-350
BHA FTL-FT5

Ford "Small Block" V8 (Windsor & Cleveland) V8 1965-2001 255-400ci Note:1

302-350AT

BHA FTL-FT5

Ford "Big Block" V8 1968-1997 351-534ci Note:1

460-350AT

Hudson I6 1948-56 262-308ci Note 3

308-350AT

CALL

Lincoln "Y Block" 1952-1957 317-368ci

368-350AT

Mopar Flathead I6 1935-1968 201 thru 265ci

230-350AT

230-350MT

Mopar V8 "Early Hemi Extended Block" 1951-53 331ci

BH 331-350

331-318AT

BH 331-FTL

BH 331-FT5

Mopar V8 "Early Hemi" & "Poly" 1952-58 241-392ci Note 4

392-350CHEVYAT

392-350CHEVYMT

392-318AT

or MT
BH 392-EFM

392-302MT

392-302MT

Mopar "B", "RB" & "426 Hemi" Big Block V8 1959-1977 350-440ci Note:1, 3, 5

426-350CHEVYAT

Mopar Small Block V8 1964-1992 273-360ci "LA" Block

318-350CHEVYAT

or 360

Mopar "New Hemi" 5.7 and 6.1 2002-present

5.7L-350CHEVYAT

Pontiac V8 1955-1960 287-389ci

287-350AT

Pontiac V8 1961-1963 389-421ci

389-350AT

Oldsmobile Early OHV V8 1949-64 303-394ci Note:1

BH 303-350

303-EFM
Note 1; Some of these engines are external balance. Call for information.
Note 2; Last year of series was a split year - customer must verify block configuration.
Note 3; Two different block and crankshaft configurations - customer must verify block configuration.
Note 4; Prior to 1962 the 318 Poly used the same crank and block bolt pattern as the early hemi.
Note 5; Prior to 1962 the "B" motor used the 8 bolt "early hemi" crank configuration.
Note 6; Other Transmission my be interchangeable. Customer must verify this. "292" = 1954 to 63 "narrow" Ford top loader pattern
Note 7; "Mopar" includes Dodge, Desoto, Chrysler, Plymouth.
Note 8; Mercury continued to use the 1932-1948 Ford style transmission after 1949.
Note 9; LS1 type Transmissions require additional hardware. Call for information.
Note 10: Some adapters are available with the Buick Olds, Pontiac Cadillac late model pattern in addition to the Chevrolet.
Adapters Listed By Engine
Chrysler, Dodge, Plymouth Big, Small Block and 5.7 V8s
Chrysler Dodge, Desoto, Plymouth Early Hemi & Poly
Chrysler, Dodge, Desoto, Plymouth Flathead 6 and 8
We also sell replacement clutches, conventional throw out bearings, hydraulic throw out bearings, alignment pins
linkage and starters
Also
You may want to look at our helpful Transmission Identification Guide
Examples of Our Adapters by Type
---
AUTOMATIC TRANSMISSION ADAPTERS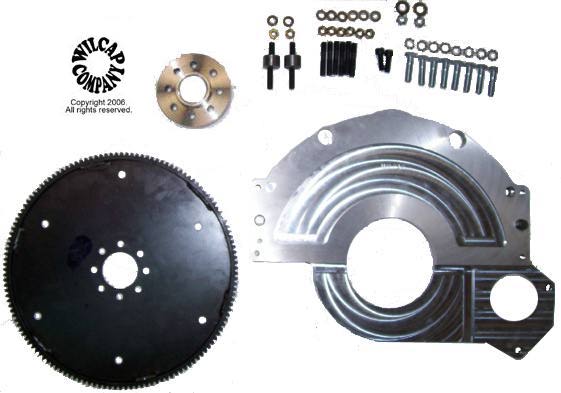 5.7L-350 AUTOMATIC TRANSMISSION ADAPTER PLATE WITH CUSTOM FLYWHEEL
---
MANUAL TRANSMISSION ADAPTERS
CHRYSLER FH 6 TO CHEVY MANUAL TRANS BLOCK PLATE ADAPTER & CUSTOM FLYWHEEL
---
ADAPTER BELLHOUSINGS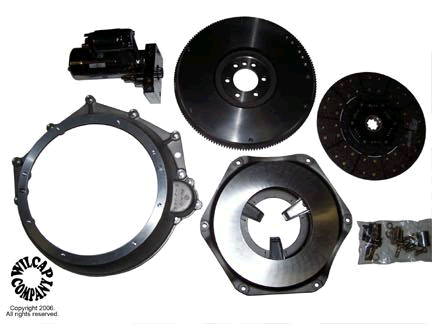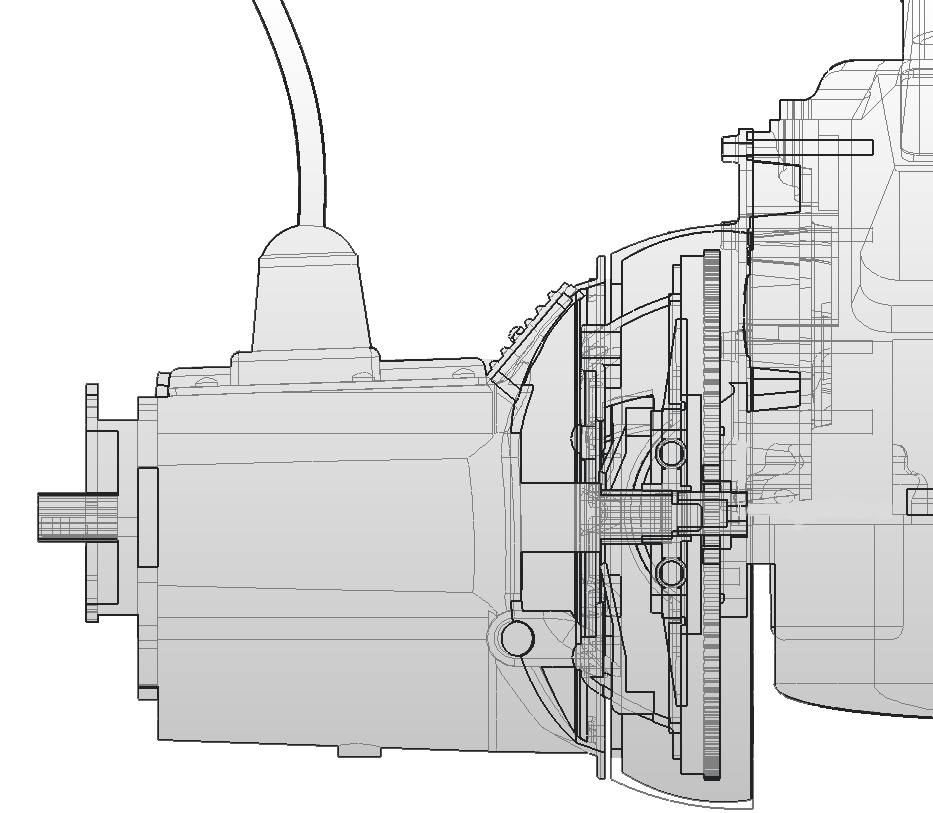 307-EFM COMPLETE KIT ADAPTER BELLHOUSING
---
BELLHOUSING ADAPTER PLATES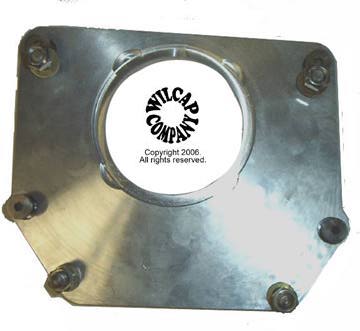 GM MUNCIE PATTERN TO FORD T5 BELLHOSUING ADAPTER PLATE
ADAPTER TECH

---
Wilcap Company
806H S. Division St. Waunakee, WI 53597
(608) 509-1113
EMAIL https://transmissionadapters.com/pages/contact-us
NOTE; Please Put "Wilcap" in subject line of email